BR 01.10
---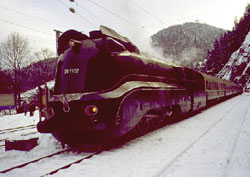 BR 01.10 streamlined steam locomotive

At the end of the thirties there was need for an express train locomotive which had a top speed of minimal 150 km/h. As a result of the fast growing SVT network, there was need for this sort of locomotives to relieve the SVT network. Berliner-Maschinenbau-AG, in former days L.Schwartzkopff-Berlin developed a three cylinder version of the BR 01. The planned 250 steam engines got the indication BR 01.10. These steam engines were streamlined steam engines. The first steam engines of this type entered service in 1939. But at the first test runs it appeared that the temparature under the streamline plates was too high, so that there was not enough air supply. As a result the steam engines became semi streamlined. Because of this, the top speed was lowered to 140 km/h. Technically these steam engines were almost identical to the BR 01, only the 01.10 was a three cylinder steam engine and the BR 01 a two cylinder steam engine.

Because of the second world war many ordered locomotives were canceled. Altogether there are only 55 steam engines built of type BR 01.10. The steam engines got the numbers 01 1001 and 01 1052 up to 01 1105. All steam engines of this type were not damaged during the war. The only thing to do after the war were minor reparations and the removal of the streamline plates.
Axle layout:
2'C1'h2
In service:
1939
Diameter driving wheels:
200 cm
Diameter carrying wheels:
100 cm/125 cm

Lengte over de buffers
(met tender 2'3 T38 St):
24,13 m
Top speed:
140 km/h
Power:
2400 pk/hp
Boiler pressure:
16 bar
Weight:
114,3 t
Das große typenbuch Deutscher Lokomotiven
Manfred Weisbrod, Dieter Bäzold, Horst J. Obermayer
Transpress, Berlin, 1992