BR 13.6-8
---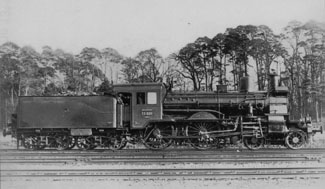 BR 13 820

After the turn of the century the weight of the trains was risen and there was more need for higher speeds in passenger travel. Because of that, the Prussian S3 could not any more manage the express train services. The in the years 1900 and 1902 built four cilinder compound locomotive of type S5.1 (types Grafenstaden and Hannover) were no longer satisfying the expectations, so that they decided to built the excellent S3 in a strengthened version. All the more the mainlines were rebuilt at that time for an axleload of 16 ton.

The modifying of the construction of the S3 was done by Vulcan at Stettin. The strengthened S3 had a bigger boiler. Also the boiler lay a little bit higher. Of this strenghtened S3, from 1911 indicated as the S5.2 are during 1905 up to 1911 367 steam engines built by Vulcan and Schichau. Except the directions Berlin, Breslau, Erfurt, Münster and Posen, the S5.2 was in service at all Prussian directions, most steam engines had their service at the direction of Hannover.

After the first world war 22 locomotives were handed over to Poland, 3 locomotives were going to Lithuania, 6 locomotives were going to Latvia and 9 locomotives were going to Belgium.

The DRG took over 200 steam engines and put them into service under type BR 13.6-8 with the numbers: 13 651 up to 13 850. The steam engines were put out of service in 1928 and in 1930 the last steam engine of this type was set aside.
Axle layout:
2'B n2v
In service:
1905-1911
Diameter driving wheels:
198 cm
Diameter carrying wheels:
100 cm/-

Lengte over de buffers
(met tender pr.2'2'T21,5):
17,761 m
Top speed:
100 km/h
Power:
800 pk/hp
Boiler pressure:
12 bar
Weight:
55,2 t