BR 14
---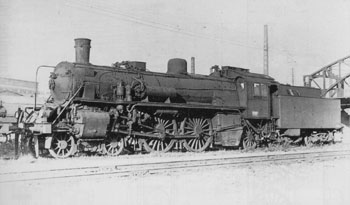 S9 locomotive

While the railways in Southern Germany already used superheated express train steam engines, the Prussian railways were building at the same time non-superheated express train steam engines with an axle layout of 2'B1'. Hanomag delivered in 1908 the first 10 locomotives of this new non-superheated express train steam engine. Later when through the changing of the railroad constructions, express trains got more and more 44 axles or more, and with six axle coaches this were 52 axles, asked this too much of the locomotives where the top speed must remain 90 km/h.

Nevertheless Hanomag delivered until 1910 99 steam engines of this type, indicated as S7. And from 1908 as S9. They had tried to develop and built a locomotive that was better than the S4 and S6. As far as this concerned the S4, they had fairly succeed, but against the S6, it wasn't succeed.

Two locomotives, the HANNOVER 903 and the 905 became in 1913/14 new boilers and were transformed to superheated steam engines, they got the indication S8. After 1919, 17 locomotives were going to Belgium and 4 locomotives were going to the French Nord railways.

The DRG took over two superheated steam engines and one non-superheated steam engine S9 (ESSEN 907), these were put into service as BR 14.0 with the numbers: 14 001 and 14 002 and the non-superheated locomotive got number 14 031. In 1926 all three locomotives were set aside.
Axle layout:
2'B1' h4v
In service:
1908-1910
Diameter driving wheels:
198 cm
Diameter carrying wheels:
100 cm/125 cm

Lengte over de buffers
(met tender pr. 2'2'T30):
21,858m
Top speed:
110 km/h
Boiler pressure:
14 bar
Weight:
79,0 t