BR 17.10-11
---
During the production of the S10, the Prussian "Eisenbahn Zentralamt" negotiated with Henschel about a new four cylinder compoud locomotive. The good qualities of the superheated steam locomotives were well-known in Southern Germany. And right there were the supply routes of coals were long, was it worthwhile to buy economic steam locomotives.
The constructor of the state railway locomotives, Georg Heise, constructed a locomotive with a "de-Glehn" transmission. Thereby was the inner low pressure cylinder driving the first axle, and the outer high pressure cylinder was driving the second axle. Henschel had needed only half a year from scratch to production.
The first 10 locomotives of type S10.1 were delivered in Oktober 1911. Three of them were going to the directions Halle and Stettin and two were going to Bromberg and Posen. There was no waterpreheater installed in the locomotives to avoid exceeding the maximum axle load of 17 ton. These installation are installed later. The S10.1 (version 1911) was exclusively built by Henschel. After the first 10 locomotives followed another 135 locomotives.
In service at the DRG
The DRG took over 132 locomotives and put them into service as BR 17.10-11 with the numbers: 17 1001 up to 17 1123 and 17 1145 up to 17 1153.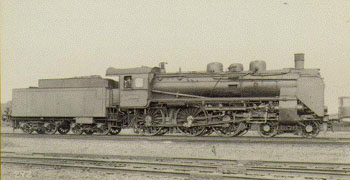 BR 17 1137
| | |
| --- | --- |
| Axle layout: | 2'C h4v |
| In service: | 1911-1916 |
| Diameter driving wheels: | 1980 mm |
| Diameter carrying wheels: | 1000 mm/- |
| Lengte over de buffers (met tender pr. 2'2'T31,5): | 20,91 m |
| Top speed: | 120 km/h |
| Power: | 1420 pk/hp |
| Boiler pressure: | 15 bar |
| Weight: | 83,1 t |