BR 61
---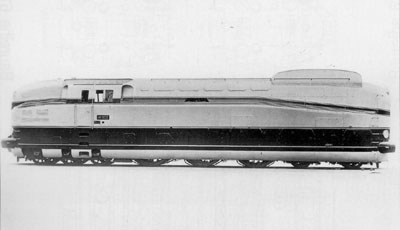 Locomotive BR 61 002

Henschel built in 1935 the streamlined steam locomotives for the "Henschel-Wegmann-Zug", the coaches of the train were built by Wegmann. The locomotive was a 2'C2 streamlined steam locomotive with a "Zwilings" transmission and a boiler pressure of 20 bar. The locomotive was able to pull the train of 130 ton with a speed of 175 km/h. The locomotive was equiped with driving wheels of 2300 mm. The locomotive was indicated as BR 61 001. In 1935 the locomotive was delivered to the LVA Grundewald, and in 1936, the Henschel-Wegmann-Zug entered service between Berlin and Dresden. The 176 km long trip was made in 100 minutes. A disadvantage of the BR 61 was the small watersupply and the only at 160 km/h quiet running. In 1939 Henschel delivered a second locomotive, the 61 002. These locomotive was a little different in comparison with the 61 001. The 61 002 had a "Drilings" transmission, and the rear bogie had three axles. And the watersupply was increased from 17 to 21 m3. Both locomotives could ride forward and backwards with the same speed, the advantage of this was that the locomotive had not be turned at end stations. The 61 002 has never entered service because the second world war broke out in 1939.
In service at the DB
The 61 001 was standing at the end of war in Bw Braunschweig and was after a revision divided into the trainsets category at the Bw Hannover and Bielefeld. In 1952 the locomotive was set aside after an accident. The 61 002 was the locomotive destined for the train of the minister of transportation, Mr Kramer. In 1961 this locomotives was rebuilt in Raw Meiningen to a 2'C1' h3 locomotive with a pulled tender and became number 18 201 as a resistance locomotive.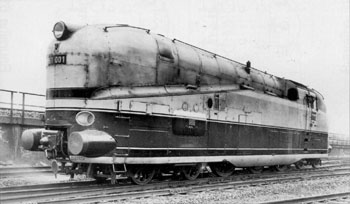 Locomotive BR 61 001
| | |
| --- | --- |
| Axle layout: | 2'C2' h2 (61 002 2'C3' h3) |
| In service: | 1935-1939 |
| Diameter driving wheels: | 230 cm |
| Diameter carrying wheels: | 110 cm/110 cm |
| Length: | 18,475 m (61 002 18,825 m) |
| Top speed: | 175 km/h |
| Power: | 1450 pk/hp |
| Boiler pressure: | 20 bar |
| Weight: | 129,1 t (61 002 146,3 t) |