E 18
---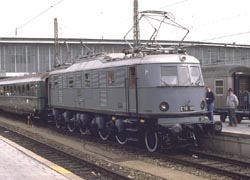 Locomotive E 18 08 with a skited coach behind | Photo: Christian Zeilwegger

With the delivering of the express train locomotive E 18 01 built by AEG, began in 1935 a new era on German track. At testruns the E 18 reached speeds of 165 km/h, the locomotive had a power of 4740 kW. In 1937 the locomotive E 18 22 won in Paris on the world exhibition the highest price, the Grand Prix.

Until Janaury 1940 the DRG put 53 locomotives E 18 in service, 8 locomotives for Schlesien, 14 locomotives for Middle Germany and 31 locomotives for the Southern part of Germany. In 1943/44, six locomotives were going from Middle Germany to the Southern part of Germany and Austria, and 7 locomotives from Schlesien were going short before the end of the war to Bavarian. At the end of the war only 24 locomotives were in good condition.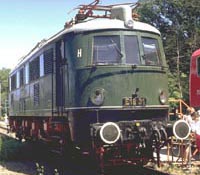 Locomotive E 18 31 in the original green coloring | Photo: Christian Zeilwegger

About the coloring of the E 18 locomotives exists many different views. The coloring of locomotives in epoch II was a gray-green coloring which leaned a little bit to sea-green. Besides this color there were some E 18 locomotives with a darkgreen-gray coloring. During the first year the decoration lines were often removed. Also the frontskirts were removed or reduced at some locomotives like what happened with some streamlined steam engines. The cause of the removal were the difficulties which occur with inspections and maintenance. At the beginning of the war the coloring changed to a steel-gray color with a black roof. At the same time the lamps were reduced by covers.
In service at the Deutsche Reichsbahn (DDR)
In 1958/59 the DR put the E 18 19, E 18 31 and the E 18 40 back into service. To relief the steam locomotives 18 201 and 18 314, which were in service at the testfacilities, the DR rebuilt the E 18 19 and E 18 40 in Raw Dessau. These locomotives had now a top speed of 180 km/h. The locomotives got new driving wheels and new Federtöpfe. The Bw Leizpig Hbf West gave end 1966 the E 18 19 and the E 18 40 to the Bw Halle P. Here were since July 1958 already the E 18 31. In June 1969 the E 18 19 was rebuilt and in August 1969 the E 18 40. The E 18 40 was heavily damaged at a testrun on 29 August 1969, so this locomotives needed completly rebuilt. They rebuilt in Raw Dessau in June 1970 the E 18 31 with parts of the damaged locomotive. The locomotives were going to the Bw Halle P and were in service until 1978 for testruns. The E 18 31 is preserved as a museum locomotive and AEG had bought in February 1992 the E 18 19.
| | |
| --- | --- |
| Axle layout | 1'Do1' |
| In service: | 1935-1940 |
| Diameter driving wheels: | 160 cm |
| Diameter carrying wheels: | 100 cm/100 cm |
| Length: | 16,920m |
| Top speed: | 150 km/h |
| Number of motors: | 4 |
| Power: | 3040 kW @ 117,0 km/h |
| Torque: | 206 kN |
| Tension: | 15 kV ~/16 2/3 Hz |
| Weight: | 108,5 t |