E 44
---
At the end of the war there were standing 92 locomotives E 44 in the southern part of Germany. From these 92 locomotives, 59 were still in good condition. Three locomotives were immediately took out of service because bomb damage. Of the other damaged locomotives four were took out of service and the rest was repaired and sent back into service. In 1952 the DB had 92 locomotives class E 44 in good condition.
The damaged E 44 173W was set aside in November 1945. The E 44 176W and the E 44 177W were brought into service in the beginning of 1946. The still in the factory standing E 44 179W up to E 44 183W were brought into service between 1947 and 1951. The E 44 178W was standing in Raw Dessau in 1945. The DR put them into service between September 1960 until October 1973 without electrical brakes. Also the DB had found a suitable line for these locomotives when they changed the tension of the Höllentalbahn to 15 kV 16 2/3 Hz in the summer of 1960. The DB had 16 locomotives in service on this line. The locomotives were indicated as E 44.11 because they had an electrical brake, from 1968 they were indicated as class 145. In the seventies the locomotives were replaced by locomotives of class 139. The last years of service, the locomotives were mainly riding trains to and from the railway yards of München.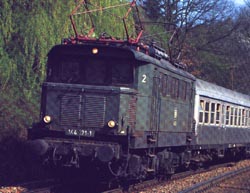 Locomotive E 44 121 with a train of "Silberlingen" coaches

In middle Germany there were 50 E 44 locomotives located after the war. 17 locomotives were damaged and 6 were immediately took out of service. In the RAW Dessau were the E 44 151 and E 44 178W for reparations. In September 1946, the Russians transported 45 locomotives from middle Germany to the Sovjet Union. The locomotives were in service between 1948 and 1951 in Workuta. In 1952 44 locomotives returned to the DR in Eastern Germany, also the E 44 044 and the E 44 046 which were took away from Schlesien returned to the DR. The E 44 047, E 44 055 and the E 44 106 remained in the Sovjet Union. In 1955 the DR brought 46 locomotives back in service. The locomotives were mainly used on the lines around Leipzig, Halle and Magdeburg in passenger and cargo trains and from 1980 mainly in the shunting services. The locomotives had as maintenance facilities the Bw's Erfurt, Weißenfels, Rostock, Schwerin and Wismar. The locomotives were indicated as 244. Their services ended in 1989, the shunting services ended in 1991.

In the fifties and begin sixties the locomotives were in service in the long-distance trains, mainly in Southern Germany. The locomotives were renumbered to class BR 144 from 1968. In Western Germany the locomotives were taken out of service in 1984.
| | |
| --- | --- |
| Axle layout | Bo'Bo' |
| In service: | 1934-1943 |
| Diameter driving wheels: | 125 cm |
| Length: | 15,29 m |
| Top speed: | 90 km/h |
| Power: | 2200 kW bij 76,0 km/h |
| Torque: | 196 kN |
| Tension: | 15 kV ~/16 2/3 Hz |
| Weight: | 78,0 t |