BR 011/012
---
With the introduction of the new UIC numbering scheme for rolling stock in 1968 the steam engines of the class BR 01.10 were classified in the class 011 and the class 012. The class 011 were the coal burning steam engines and the class 012 were the oil burning steam engines.
In 1970 the steam engines 011 and 012 were moved to the Bw Rheine, they replaced the old steam engines of class 003 and 001. When two years later the remaining locomotives from Hamburg-Altona also moved to Rheine, was Rheine the last and most legendary place for these express train locomotives. Most of the express and D-trains between Rheine and Emden were pulled by steam engines 011 and 012 until 31 May 1975. On this day the last D-train, D 714 was pulled by a steam engine, the 012 081-6.
The last coal burning steam engine, the 011 062-7 was set aside in 1973. In 1971 this steam engine had made a couple of trips for the NVBS. The 012 075-8 came in March 1976 to Rotterdam, hauled by a 23 023.
The following steam engines 01.10 are preserved:
01 1056 DME, museum Darmstadt-Kranichstein 2
01 1061 Deutsches Dampflokomotivmuseum, Neuenmarkt-Wirsberg
01 1063 Monument, Braunschweig
01 1066 Ulmer Eisenbahn Freunde, Karlsruhe 1
01 1075 Stoom Stichting Nederland, Rotterdam 1,2
01 1081 Ulmer Eisenbahn Freunde, Karlsruhe
01 1082 Museum für Verkehr und Technik, Berlin
01 1100 Railwaymuseum, Nürnberg 1
01 1102 Monument Bebra
01 1104 Steamtown, Carnforth (England)

1 in condition for pulling trains
2 coal burning

The most famous BR 01.10 is the 01 1102, the "Blue Lady". With a lot of effort and dedication this steam engine is returned to it's original state. The combination of dark blue, a new boiler and the maximum top speed of 150 km/h, make this steam engine to an unique piece of railway history.
Unfortunately this locomotive is burned down in the night of 8 and 9 September 2001. The damage is estimated on 300.000 DM (154.000 EURO).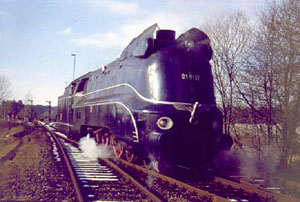 The "Blue Lady" BR 01.10
Axle layout:
2'C1'h3
In service:
1939
Diameter driving wheels:
200 cm
Diameter carrying wheels (front/rear):
100 cm/125 cm

Lengte over de buffers
(met tender 2'3 T38 St):
24,13 m
Top speed:
140 km/h
Power:
2400 pk/hp
Boiler pressure:
16 bar
Weight:
114,3 t