BR 03.10
---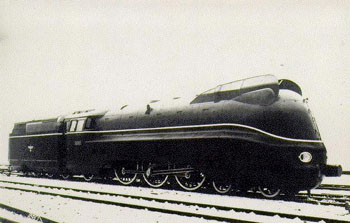 BR 03.10 steam locomotive of the DRG

The DRG had no steam engines for express trains up to speed of 150 km/h on lines with an maximum axle load of 18 ton. For this situation the DRG developed the streamlined steam engine series 03.10. In 1939 Borsig presented the first prototypes of this new steam engine which had a top speed of 150 km/h. After the successful test runs with both prototypes, the DRG ordered 138 steam engine BR 03.10. But only 58 locomotives were delivered. The numbers 03 1023 up to 1042, 03 1061 up to 1072 and 03 1092 up to 1140 stayed unoccupied. Totally there were 60 locomotives BR 03.10 (58 built in mass production and two prototypes).

The BR 03.10 was derived from the BR 03. The BR 03.10 was a three cylinder locomotive. The manufacturers were Borsig in Berlin, Krupp in Essen and Krauss-Maffei in München. The locomotives built by Krupp and Krauss-Maffei were streamlined like the BR 05, the locomotives built by Borsig were streamlined until half way the driving wheels.

The locomotives BR 03.10 were originally designed for 150 km/h, but in 1941 the maximum speed was reduced to 140 km/h. In 1942 most of these locomotives had Bw Breslau, Posen, Kattowitz and Stargard as maintenance facilities. After world war two, 26 locomotives were going to the DB, 19 to the DR in the DDR and 9 locomotives were going to Poland to the PKP. The DB and the DR removed the streamline plates. Both companies replaced the boilers in 1957/58 for new ones.
Axle layout:
2'C1'h2
In service:
1939-1941
Diameter driving wheels:
200 cm

Lengte over de buffers
(met tender 2'2'T32 St):
23,905 m
Top speed:
140 km/h
Power:
1790 pk/hp
Boiler pressure:
16 bar
Weight (without tender):
103,2 t
Das große typenbuch Deutscher Lokomotiven
Manfred Weisbrod, Dieter Bäzold, Horst J. Obermayer
Transpress, Berlin, 1992