BR 03.10
---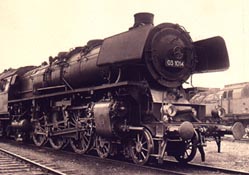 The BR 03 1014 without streamline plates

After the second world war 26 steam engines BR 03.10 were going to the DB. From 1948/49 the DB removed all the streamline plates from the steam engines. The locomotives got the new "Witte" smoke deflectors. Most of the steam engines BR 03.10 preserved the pre water heater fitted under the smoke box.

Steam engine 03 1056 which was stationed in the Bw Braunschweig was used for tests with express train coaches. In 1950 the other 25 locomotives were examined by Henschel and got a main overhaul. The steam engines BR 03.10 were maintained in the Bw's Dortmund Bbf, Ludwigshafen and Offenburg. These steam engines flourished in the era of the DB.

The steam engines which were stationed in Dortmund were used in the F-train network of the DB. The steam engines 03 1014, 1022 and 1043 got even a blue color which was adapted to the color of the F-train coaches. The steam engines were in service by turns with the BR 05 on the relations Hamburg-Köln-Frankfurt(Main) in train F 3/4 Merkur.

The steam engines stationed in the Bw Ludwigshafen were mainly running trains on the line along the river Rhine to Köln and further to Achen, Kaldenkirchen or Münster. The steam engines stationed in Offenburg were running mainly along the river Rhine between Frankfurt and Basel. In 1952 the steam engines from Offenburg were exchanged with steam engines BR 01.10 coming from the Bw Paderborn. From Paderborn they were running on the relations between Mönchengladbach/Düsseldorf and Kassel/Northeim. In 1954 a couple of steam engines from the Bw's Paderborn and Dortmund were moved to the Bw Hamburg Altona. From this Bw the steam engines were pulling F and D trains between Westerland/Flensburg and Hannover/Köln.

But also the boilers of this steam engine type got little cracks due to the high load and age of the boilers. Because of that the steam engines got new boilers in 1957. But because of other failures the steam engines were taken out of service in 1966.
Axle layout:
2'C1'h3
In service:
1939-1941
Diameter driving wheels:
200 cm

Lengte over de buffers
(met tender 2'2'T32 St):
23,905 m
Top speed:
140 km/h
Power:
1.790 pk/hp
Boiler pressure:
16 bar
Weight (without tender):
103,20 t