E 10.12-13
---
In 1962 the Rheingold long-distance train was provided with new exclusive rolling stock. The intention was also to raise the maximum speed of this train to 160 km/h on several parts of the line along the river Rhein. For this purpose the DB used the E 10 locomotives E 10 239 - 244 (6 locomotives) and modified the gears of the locomotives, as well as the bogies. The Rheingold locomotives got also a new livery, the blue ivory white coloring of the Rheingold coaches. The locomotives were renumbered to class E 10 1239 - 1244. These first Rheingold locomotives were in fact modified E 10.1 locomotives.
In the fall of 1962 the first special built Rheingold locomotives were delivered. This were the locomotives E 10 1265 - 1270. The previous Rheingold locomotives E 10 1239 - 1244 were renumbered back to E 10 239 - 244 and were again in service in the usual express train services. The new Rheingold locomotives were more aerodynamic than the E 10.1 locomotives. The locomotives had one long air grid on each side of the locomotive and the locomotives had smaller frontskirts.
These Rheingold locomotives were also called "Bügelfalte" locomotives. All E 10 locomotives got this new shape from 1964 with locomotive E 10 288, these locomotives got the indication E 10.3. These locomotives were not the same as the Rheingold locomotives, even though they had the same shape, the transmission and bogies were different.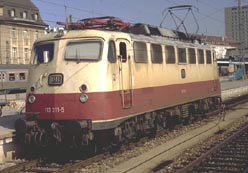 The E 10 1311 as BR 113 311 in TEE livery | Photo: Christian Splittgerber

In 1963 and 1964 the DB ordered another series of Rheingold locomotives for the Rheinpfeil services. These locomotives were numbered as E 10 1308 - 1312. This series was, together with the Rheingold locomotives indicated as class E 10.12-13. As fas as their appearance they are similar to the locomotives of class E 10.3. The locomotives E 10 1308 - 1312 had also bogies capable of speeds of 160 km/h. Only these locomotives got already by delivery the new TEE coloring red and ivory white. From 1966 the locomotives E 10 1265 - 1270 got also the new TEE livery.

Locomotive E 10 1270 reached in 1963 at testruns meant for pantographs a speed of 180 km/h. In 1968 again 20 locomotives E 10.12-13 were delivered, but these locomotives were already provided with the new UIC numbers. So these locomotives were numbered as 112 485 - 504. These locomotives were also painted in TEE livery. In 1968 the other Rheingold/TEE locomotives were renumbered to class 112. The E 10 1265 - 1270 became 112 265 - 270 and the E 10 1308 - 1312 became 112 308 - 312.

At the end of the sixties all E 10.12-13 locomotives were maintained at the Bw Frankfurt/M and in the seventies at the Bw Dortmund Bbf.
| | |
| --- | --- |
| Axle layout | Bo'Bo' |
| In service: | 1962-1968 |
| Diameter driving wheels: | 125 cm |
| Length: | 16,49 m |
| Top speed: | 160 km/h |
| Power: | 3700 kW at 132 km/h |
| Number of motors: | 4 |
| Torque: | 275 kN |
| Tension: | 15 kV ~/16 2/3 Hz |
| Weight: | 86,0 t |