E 10.3
---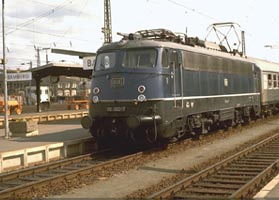 E 10.3 "BŁgelfalte" locomotive, April 1977 | Photo: Christian Splittgerberg

In 1962 the first new built Rheingold E 10 locomotives were delivered. The locomotives had a different upper structure than the E 10.1. This one was more aerodynamic than the E 10.1, there was one long air grid on each side of the locomotive and the locomotives had smaller frontskirts.

They were very pleased of the new shape of the Rheingold locomotives so the DB decided to give the rest of the E 10 locomotives the same shape. From locomotive E 10 288 all E 10 locomotives had this shape, the locomotives with these new shape got the indication E 10.3, also called Bügelfalte locomotives. The difference with the Rheingold locomotives is the fact that the Rheingold locomotives had a higher top speed.

Between 1964 and 1968 the following series were built and delivered: E 10 288 - 307, E 10 313 - 481, 110 482 - 484 and 110 505 - 510. The locomotives were painted in a darkblue coloring (RAL 5011) which was the same coloring as the F-train express train coaches which operated in the F-train network. The missing numbers in the above number series are the Rheingold locomotives E 10.12-13. The locomotives 110 482 - 484 and 110 505 - 510 were delivered in 1968 and were already provided with the new computernumbers. From 1968 all other E 10.3 locomotives were renumbered to class 110.

From locomotive E 10 399 the locomotives got a Siemens high tension switch with a Thyristor switch. At the beginning of the eighties there were a couple of modifications done at the locomotives. For example the buffer skirts and front skirts were removed, the rods were removed for simpler ones, the air grids were replaced for separate grids with a small window in the middle of the locomotive, also the silver colored roof and the raingutters were abandoned.

The locomotives E 10 299 and 300 were equiped in 1963 with bogies capable of speeds of 200 km/h for tests on components for the E 03.
| | |
| --- | --- |
| Axle layout | Bo'Bo' |
| In service: | 1964-1968 |
| Diameter driving wheels: | 125 cm |
| Length: | 16,49 m |
| Top speed: | 150 km/h |
| Power: | 3700 kW at 105 km/h |
| Number of motors: | 4 |
| Torque: | 275 kN |
| Tension: | 15 kV ~/16 2/3 Hz |
| Weight: | 84,6 t |