BR 06
---
The BR 06 belonged to the series of standard design locomotives with had a variable axle load, like the BR 41 and BR 45. The axle load could be adjusted for loads between 18 and 20 t. Two prototype locomotives, 06 001 and 06 002 were delivered by Krupp in the spring and summer of 1939. The BR 45 from Henschel which had the same boiler as the BR 06 was delivered two years before.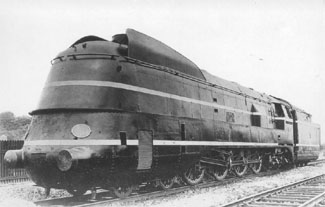 BR 06 001

The BR 06 was designed to ride express trains in hilly landscapes. The steam engine had to pull a train of 650 t with a speed of 120 km/h, and on rising track of 1:100 this speed had to be 60 km/h. Like the BR 01.10, BR 03.10 and the BR 05, the BR 06 became streamlined. The BR 06 became the bigest steam engine ever built in German history. It had a boiler of 7500 mm and four coupled axles. To be able to drive this steam engine through curves and switches with a radius of 180 meter, the locomotives was provided with a third coupled axle with driving wheels without rims. The rims of the second and third driving wheel were reduced by the 06 002 and the third driving axle could be shifted 10 mm to both sides.

Both steam engines had as maintenance facilities Bw Frankfurt/M 1 and had their service on the lines to Erfurt. It appeared that the locomotives could not fullfill their jobs on these lines, the additional exploitation cost were not balanced against the surplus value which the locomotives had to generate. In the war, the 06 002 was destroyed by a bomb and later the 06 001 was set aside. After the war there was no need for these large steam engines, so finally in 1951 the 06 001 was put out of service definitively.
Axle layout:
2'D2'h3
In service:
1939
Diameter driving wheels:
200 cm
Diameter carrying wheels:
100 cm/100 cm

Lengte over de buffers
(met tender 2'3'T38 St):
26,520 m
Top speed:
140 km/h
Power:
3500 pk/hp
Boiler pressure:
1206 bar
Weight:
141,8 t