Epoch II
Introduction
The rise of the long-distance railroad traffic
A new era, a new generation of coaches
Standard design locomotives
Service on a high level, the Mitropa
The rise of a trainlegend
A new numbering scheme for passenger cars
Beginning of the modern age, electric locomotives
A new idea, the SVT
The competitor of the SVT, the Henschel-Wegmann-Zug
Result of renewal: the Schürzenwagen
The temporarily ending

The competitor of the SVT, the Henschel-Wegmann-Zug
The locomotive industry felt that the upcoming rise of trainsets in the long-distance traffic was a threat for the locomotives. And since there were always different opinions about what was the best, a trainsets or pulled train with coaches and a locomotive, the locomotive industry developed the Henschel-Wegmann-Zug. This train consisted of four coaches built by Wegmann and a streamlined steam engine without tender built by Henschel.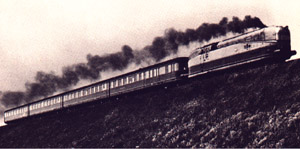 The Henschel Wegmann Zug between Berlijn and Dresden

The locomotive and coaches were special built only for this train. The locomotive had no tender, the coals were in the back of the locomotive. The locomotive was of type BR 61. Altogether they are two locomotives built, the BR 61 001 and the BR 61 002. Because the outbreak of the second world war, it was too late for locomotive BR 61 002 to enter service in 1939. The second locomotive differed a little from the first one. The second locomotive was a three cilinder and had a three axle bogie in the back. The coaches are special built for this train, initially only four coaches are built. Information about these coaches can be found by the Henschel-Wegmann-Zug coaches.

The train entered service on 13 June 1936. The train ran between Berlin Anhalter Bf and Dresden Hbf as D 53/54 and D57/58. The service stopped when the war broke out on 1 September 1939.

The locomotive was coupled with the coaches by Scharfenberg couplers, the steam engines 01 102 and 03 123 had for this reason Scharfenberg couplers too. These locomotives were the backup locomotives for the BR 61 001.