Epoch II
Introduction
The rise of the long-distance railroad traffic
A new era, a new generation of coaches
Standard design locomotives
Service on a high level, the Mitropa
The rise of a trainlegend
A new numbering scheme for passenger cars
Beginning of the modern age, electric locomotives
A new idea, the SVT
The competitor of the SVT, the Henschel-Wegmann-Zug
Result of renewal: the Schürzenwagen
The temporarily ending

The rise of a trainlegend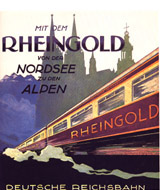 Rheingold affiche | Foto: Sammlung Hünemörder

On the 15th of May 1928 the first Rheingold FFD 101/102 started his service. The 662 km long trip was going from Basel to Amsterdam/Hoek van Holland. The Rheingold was pulled by a locomotive of type BR 18.4-5 (Bavarian S 3/6). The cream/violet painted salon coaches were imitated from the famous American Pullman coaches. They offered very luxurious interiors with or without kitchen. From one kitchen two coaches were served. The design of the interiors go back to designs of famous artists and architects. The legendary inscriptions "Rheingold" were not printed on the sides of the coaches from the beginning, but in the thirties they appeared of both sides of the coaches.

According to the regulations it was not allowed to couple salon coaches directly behind the locomotive, because reasons of safety there had to be placed a luggage coach behind the locomotive. To avoid too much shunting, because this route had many endstations, the train got at both ends a luggage coach. Technically the coaches were the most modern coaches of the DRG at that time. With their 23,5 meter they exceeded everything in length on German tracks. The finally 29 built coaches weighed 50 to 57,2 tons, this was considerable more than the ordinary express train coaches. The bogies were of a special construction. Furthermore there were three luggage coaches built. The train consisted of first and second class coaches. More information about the coaches can be found by the Rheingold coaches.

In the fall of 1939 the Rheingold disappeared from the tracks. With the Rheingold which started in 1928 there was made a begin with the rise of the high-graded long-distance traintraffic, which is nowadays formed with the IC/EC and ICE networks.